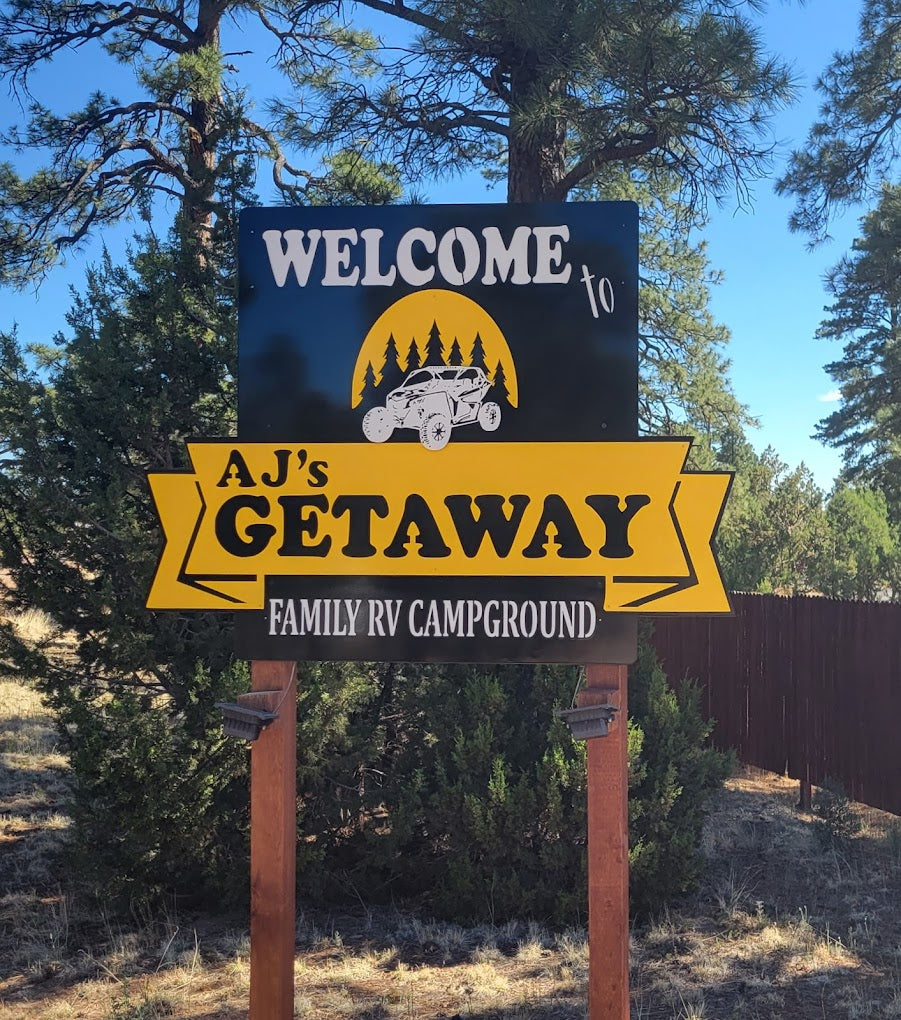 RV CAMPING
If your RV fits on the road, it'll fit in AJ's Getaway RV Park. With the growing size of today's RVs and 5th wheels on the road, we purposely designed AJ's Getaway to accommodate almost every size out there. 
Every RV site is equipped with 50 amp/ 30 amp / 20 amp pedestals, with water and sewer hookups. If backing your RV makes you nervous, not to worry- Every site at AJ's is a pull-through, which makes entering and exiting a breeze. Each RV pad is 15' wide so opposite slide-outs have enough room as well as an additional 10' of clearing for your awning.
Want a little more privacy? You got it!  When we designed AJ's, we left as many trees as possible for privacy and so you can see the most beautiful sunrises and sunsets shining through the treetops. Did we mention that each site is approximately 70' apart from each other? This gives you a HUGE campsite for you and your family to enjoy. 
Are you camping with family or friends? We have you covered! Check out our buddy sites, as they we have 2, 2 RV camping sites and 3, 3 RV camping sites. 
These are sites 9/10, and 34/35 for 2 RV's and sites 27/28/29 ,  30/31/32 , 36/37/38 for the 3 RV sites.
Site 36 and 37 are inline camping on the same long row facing site 38.
Each RV site will be equipped with a fire ring and picnic table.
We hope you enjoy your stay here and Welcome to AJ's Getaway RV Park!
Collapsible content
AMENITIES

We have the biggest campsites on the mountain for a privately owned campground. Our Campsites average 70ft wide x 90ft long!
Buddy Sites
All Pull Through Sites
Secured RV Storage for 30 spots
Pet friendly for up to 2, non-aggressive dogs for a small fee.
Off-road friendly. Side x Sides, UTV, ATV's are welcome here.
FULL HOOKUPS (water, sewer, electric) with 20/30/50 amp pedestals
All pull-through sites with fire pits and picnic tables
Ramadas throughout the Campground
Event Stage
Dark Sky Guidelines
Children's activities planned as well as themed weekends
Free WIFI- but bring a jet pack or booster just in case!
Future Camp Store, Clubhouse, and Playground to be added.
Black Canyon Lake is 15 minutes away
Woods Canyon Lake is 30 minutes away
Willow Lake is 25 minutes away
100's of Miles of OHV trail riding throughout our town and especially right outside our property!